A general dentist can only treat minor orthodontic issues and can only do some orthodontic work. If it is a complicated case, they will refer the patient to orthodontists. Orthodontists see both kids and adults and specializes in improving your bite. They make sure your teeth fit together correctly and that your jaw lines up.
Orthodontists use several tools to accomplish this, most commonly they use braces and retainers to improve your bite and make your teeth line up correctly. Orthodontists also use aligners and appliances such as headgear to straighten your teeth. Headgear applies more force to move your teeth than traditional appliances by attaching around your head or neck. Orthodontists complete four year of dental school plus an additional two to three years of study that specializes in orthodontic dentistry.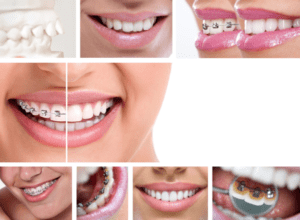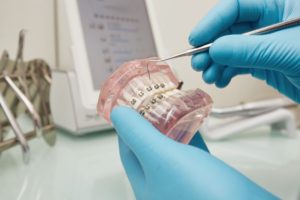 Why do people see Orthodontists?
The initial reason most people go to see orthodontists is to get their teeth straightened. What most of them don't know is that there are more important factors in how your bite will fit together at the end of the treatment.
If you have crooked or overcrowded teeth or you have either an overbite or underbite, this can lead to cavities and gingivitis as well as tooth loss. Teeth that are not in their proper place make them more difficult to clean. Those that have a bad bite can also have issues talking or chewing.
Orthodontic dentistry has changed over the years and the very first orthodontic appliances can be traced back to the Greeks and Etruscans. Traditional metal appliances were first seen in 1927 with the clear set coming out in the 1970's. Invisalign was introduced in 1999 and include a series of clear trays that are fitted to the individual's teeth and changed out every two weeks. These days, there are many options for braces that are hard to see with some that can be attached to the back of your teeth.
What age do people see Orthodontists?
It is recommended that children see orthodontists by age 7, even if they do not have issues. At this point, the jaw is still growing and it's the best time to catch an issue early. The normal age for orthodontic treatment is between 9 and 14 years. Adults also see orthodontists for treatment as orthodontic appliances can installed on adults as late as their seventies.
How to choose an orthodontist?
Most people will receive a referral from the dentist and others will ask family and friends for recommendations. It doesn't hurt to do some research and find out how easy it is to book appointments, what the orthodontist's personality is like and see how comfortable the orthodontist's office is when you are there.
How long will treatment take?
Orthodontists will treat each patient differently and customize that patient's treatment to their specific issues. On average, orthodontic treatment will take between one and three years.
What should you expect at your first visit?
Your first visit will be an initial consultation where you will be able to meet our staff. You will also receive a complete exam, learn more about orthodontics and then find out what treatment option is best for you or your child. Our staff will be happy to answer any of your questions and make sure you have all the information necessary to make an informed treatment decision.
What happens during treatment?
After Dr. Navarro has installed your new orthodontic appliance, you will be scheduled with appointments every four to eight weeks for adjustments. You also need to make sure you are continuing to see your family dentist at the same time to continue with your regular dental checkups and cleanings.
Does Dr. Marco Navarro use the latest Technologies? E.g. Digital X-Rays, 3D imaging etc
Dr. Marco Navarro and his team offer some of the most current technologically advanced options that are available. One option they use is 3D technology that is used to evaluate a patient's bite through three-dimensional (3D) reproductions. Through these models, Dr. Navarro is able to demonstrate how that individual chews and offer the most beneficial treatment plan. This also enables a patient to see how likely dental treatments will provide an outcome in their case and help them make an educated decision about their dental treatments.
What are Dr. Marco Navarro Professional Affiliations?
Dr. Navarro-Flores is a member of the American Board of Orthodontics. The American Board of Orthodontics (ABO) was created in 1929 and is the first specialty board in dentistry. The ABO is the only orthodontic specialty board that the American Dental Association recognizes.
Orthodontists that are board certified orthodontists have undergone hundreds of hours of training to show their skills, knowledge and judgment to provide the highest degree of patient care.
Dr. Navarro-Flores is also a member of the following Professional Affiliations:
American Association of Orthodontists
Texas Association of Orthodontists
World Federation of Orthodontists
American Dental Association
Texas Dental Association
Does Dr. Navarro-Flores offer affordable Payment Plans?
Dr. Navarro-Flores and his team offer several options when paying for your orthodontic treatment. They accept most major credit cards and insurance plans. They also work with CareCredit to help you cover any cost that is not covered by insurance.
Does Dr. Navarro offer different Treatment Plans?
Dr. Navarro offers many different treatment plans for various orthodontic work including:
Crowding of the teeth
Open bite- Front teeth
Deep Overbite – Lower front teeth bite into palate
Missing lateral incisors
Underbite – Lower front teeth in front of upper teeth
Spacing of teeth
Overjet – Protruding front teeth
Non-braces treatment
All of these cases are handled with a specific treatment plan for the individual. These plans can include the following brace options:
Traditional Metal
Clear
Self-ligating
Clear Aligners
Lingual
Dr. Navarro offers many newer options including Invisalign, ClearCorrect, the Harmony System, Insignia and the Crystal Clear 3D Bracket System.
What is Dr. Marco Navarro's background and experience?
Dr. Navarro formal education includes:
Doctorate of Dental Surgery – The University of Nuevo León, 1993
Post-Graduate Program in Orthodontic Dentistry – New York University, 1996
Certificate in Orthodontics – University of Detroit, 1999
Master of Science in Dentistry – University of Detroit, 1999
Advanced Education in Orthodontics and Functional Occlusion – University of Detroit, Michigan 2002
Dr. Navarro has always enjoyed increasing his knowledge of orthodontic dentistry and keeping his education up to date through continuing education courses from all over the world. In this way, he learns the newest techniques and is able to apply the newest orthodontic developments right as they are available. Dr. Navarro is a supporter of the newest 3D technology to provide patients with the best treatment plans available. He also is involved in hands-on classes that teach these new skills so that he can learn them correctly.
Does the office provide comfortable environment?
Dr. Navarro and his team feel that your comfort is vital from your very first appointment and throughout treatment. The staff works to help you feel relaxed and at home. Dr. Navarro personally provides treatment to each patient just as he would for his own family. Our treatment areas were created to include parents and siblings while Dr. Navarro-Flores is performing monthly adjustments.
Dr. Navarro also feels strongly that patient education is important for each case. Patients are taught that a proper bite is an essential ingredient to sustaining good oral health. Dr. Navarro and his staff listen to each patient and work to earn their trust by listening to their concerns and being as honest and straightforward as possible with our answers. Dr. Navarro and his staff are always aware that they are entrusted with your oral health and overall well-being as well as that of your child.